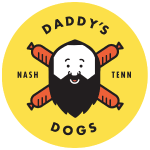 :: Daddy's Dogs :: 5205 Centennial Blvd, Nashville, TN 37209 (615) 802-8481
Daddy's Dogs is always pushing the limits of what a hot dog SHOULD be. Cream cheese on a hot dog? Yup. Peaches? You bet your ass. These one of a kind dogs are sure to give your taste buds the mouth explosion they've been looking for, and forever elevate your expectations for what a hot dog should be.
The Original Nashville Style Beer Hall! A Beer Hall with 60 Taps of craft beer, and 60+ Cans and Bottles of beer. Traditional and Signature cocktails, with amazing Beer Hall food to go with it all. Family friendly till 10pm, 21+ after 10pm.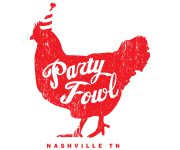 Party Fowl :: 719 8th Ave S :: Nashville, TN 37203 (615) 364-2617 McKendree Sponsor Bar
Specializing in "Nashville Hot" and Southern fried chicken, but offer much more. Two full bars will feature a cocktail menu and 20 taps by local distillers and brewers with over 50 wines poured by the glass. There are wall to wall tvs for sports enthusiasts along with live music throughout the week.