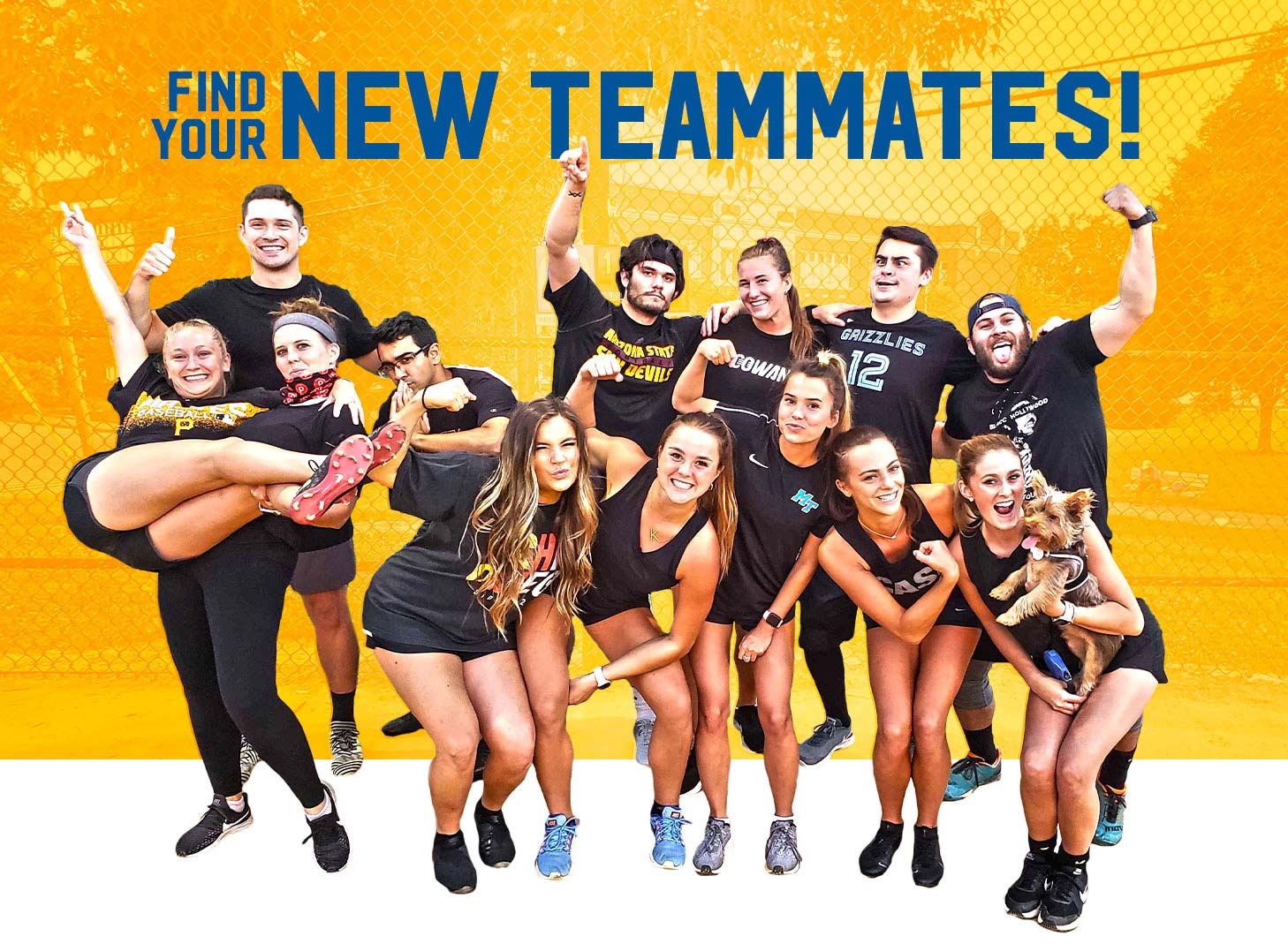 Nashville Sports Leagues Free Agent List
Interested in joining an upcoming league but don't have a team? Fill out the fields below & a staff member will contact you to help hook you up with a team!


Top 5 Reasons To Join as a Free Agent!
Meet New People - Registering as a free agent allows you to be placed on a team full of a variety of people who could turn out to be your lifetime friends. This is a great way to meet new people, learn more about the city, and altogether have a blast especially if you are new to Nashville!
Try Something New - Free agency is the best way to try out a sport you're not sure if you will like or haven't played in quite a few years. I can almost guarantee your free agent teammates are in the same boat. The diverse team will have players who have played before and are able to show you the ropes first hand as well as players who are learning right there with you!
Mix Up Your Workout - The same repetitive workout routine can become strenuous and sometimes boring. Joining one of NSL's sports leagues as a free agent allows you pick a sport(s) of your choice and try out a new workout! We even offer indoor leagues during those cold winter months when no one wants to run outside anymore.
All The Fun, Less Hassle - Finding enough people to field a full team can be quite a challenge in itself, but securing players week after week to show up to the games is an even bigger obstacle. For free agent teams, we apply more than the required amount of players on the team as we understand players go on vacations, stay late at job, sickness strikes, traffic, etc. and some never show up! We secure the players for the team, so all you have to do it show up to the facility and have fun.
Did We Mention FUN? - Taking all 4 previous points into account, our mission is to make sure you are making memories and having the most fun possible in all of our leagues. We also love seeing our free agent teams bond together both on and off the field as well returning as full teams the following seasons. Join as a free agent to make your mark in one of our leagues and meet some awesome individuals such as yourself today!

_______________________________________________________________________
Free Agent FAQ'S
What is a free agent?
We are glad you asked! A free agent is an individual who does not have a whole team to play on, but is looking to play a sport! You can sign up by yourself and we place you on a team with other free agents who are interested in the same sport as you! We also communicate with every member of the team weekly, which includes, introducing you to your new teammates via email, and checking in on the overall team's status throughout the season. Many of our past free agent teams have stuck together after their first season, which makes it a good way to make some new lifelong friends and have a reliable team for seasons to come.
Can a couple of friends and I register as free agents? Can we be placed on the same team?
Absolutely! If you and a couple of friends are looking to play a sport that requires more roster spots than you can fill, you can register together as free agents. There is a comment section on the registration page where you can list the names of the players you wish to play on the same team with. Simply write the first and last names of your free agent friends and we will do our best to accommodate your request! (ex. same team as Billy Martin)
I'm not really good at sports and not sure if this is something for me.
Trust us, there are more of you on the field than you think, meaning the game will not rely solely on your athletic ability. Our leagues are not made for pro athletes, just simply made for fun and friendly competition. Be sure to check out one of our many "Social" leagues which are built for beginners like you!
I definitely want to play, but I might have to miss a game on the schedule.
If you have to skip a game, no worries! We make sure to place extra individuals on your team because we understand life happens, and sometimes not every player can make it every week. With that being said, if you believe you can't make at least half the season, it's probably best to pick another night of the week to play.
Why are there so many players on my free agent team?
Great question! We try to place extra players on your team as we realize that people on your team can't make it every week. So, for example we'll put 6 individuals on your 4 person volleyball team to help ensure your team can play every week and doesn't have to forfeit.
Our team isn't that good, but I have a skilled friend who can help us. Am I allowed to bring them along and let them play to help us win?
The simple answer is no. You are more than welcome to bring a sub with you if your team might be short with no other options on game day. But just bringing your friend with you to play isn't fair to the rest of the team. By doing this you take away playing time from people who had paid to play.
What if my teammates and I want to have fun together again next season?
We commonly see this and you are more than welcome to sign up for another season together as a full team!
When do I know if I have a spot in a league?
When you register as a free agent we automatically place you on a roster. Payment is required to secure your place on the team. Once your roster is filled, we will contact the entire team & introduce you to one another, as well as provide all league information. Due to the nature of signups, it could be a few weeks after your initial sign up before you are contacted. You can expect to be introduced to your teammates roughly 1-2 weeks prior to the season beginning.
What happens if not enough people register for my league to form a team?
While almost all of our free agent teams have enough roster spots filled, there may be a rare occasion where we can't get enough free agents for a particular league. A member of our office team would then contact you to discuss alternate options for your situation.



"I absolutely love NSL! I have talked so many people into joining the league because it is such a great experience. As a young person being new to the city, this league has made my Nashville experience so much better. We started off as a free agent soccer team on Sundays (Free ballers) in January and this is now our fourth season together. We are a very close knit group that frequently hangs out outside of the soccer field. I am forever grateful to NSL for giving me the opportunity to meet lifelong friends!"
- Ali Basom

____________________________________________________________________